"In a Squeeze" Lemonade Stand Challenge
Let's take a stand against PANS PANDAS.
This summer, be a shining star for an important cause!
Your "In a Squeeze" lemonade stand fundraiser for Inflamed Brain Alliance (IBA) will help ensure all kids with PANS PANDAS have the chance to get the diagnosis & care they need. By holding a stand in your community, you're raising important awareness and financial support for this little known disorder. Thanks for helping PANS PANDAS kiddos & families "In a Squeeze." Have fun with your friends "taking a stand" with IBA this summer!
To participate in this challenge, parents can register their child's stand HERE. Once you're on the "In a Squeeze" page in CanadaHelps registration page, select "Create a Fundraiser."
Compete for fun prizes! At the end of the summer we'll be awarding prizes for the:
most $ donations raised
most # days "taking a stand"
most creatively decorated stand (send your pic HERE)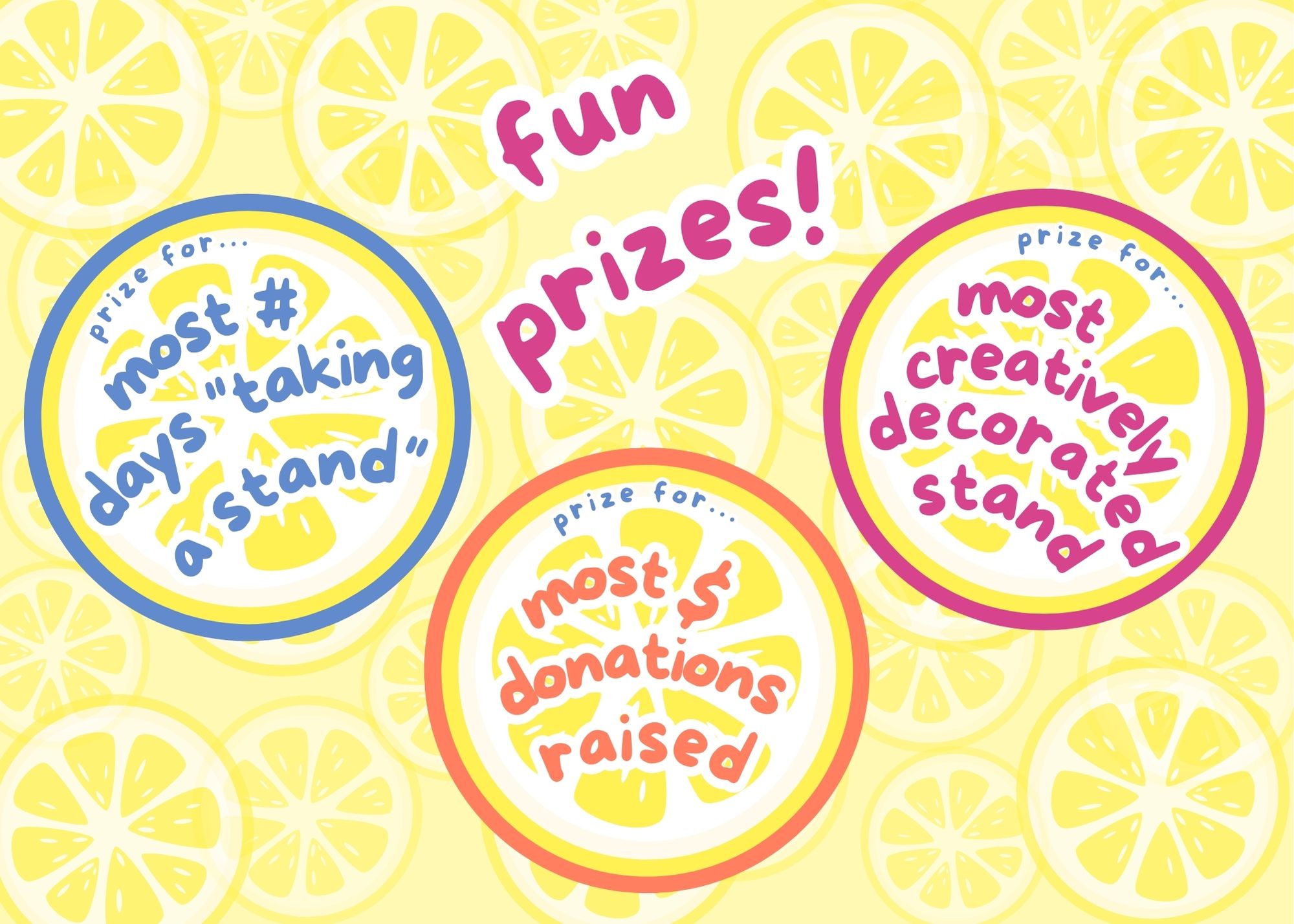 Once registered, lemonade stand kits will be mailed to you within 3-5 working days. Lotsa fun stuff here!
host a lemonade stand "quick start guide"
stand poster
donor thank you display
PANS PANDAS info display
6 buttons
3″ round sticker
social media sign
Please print: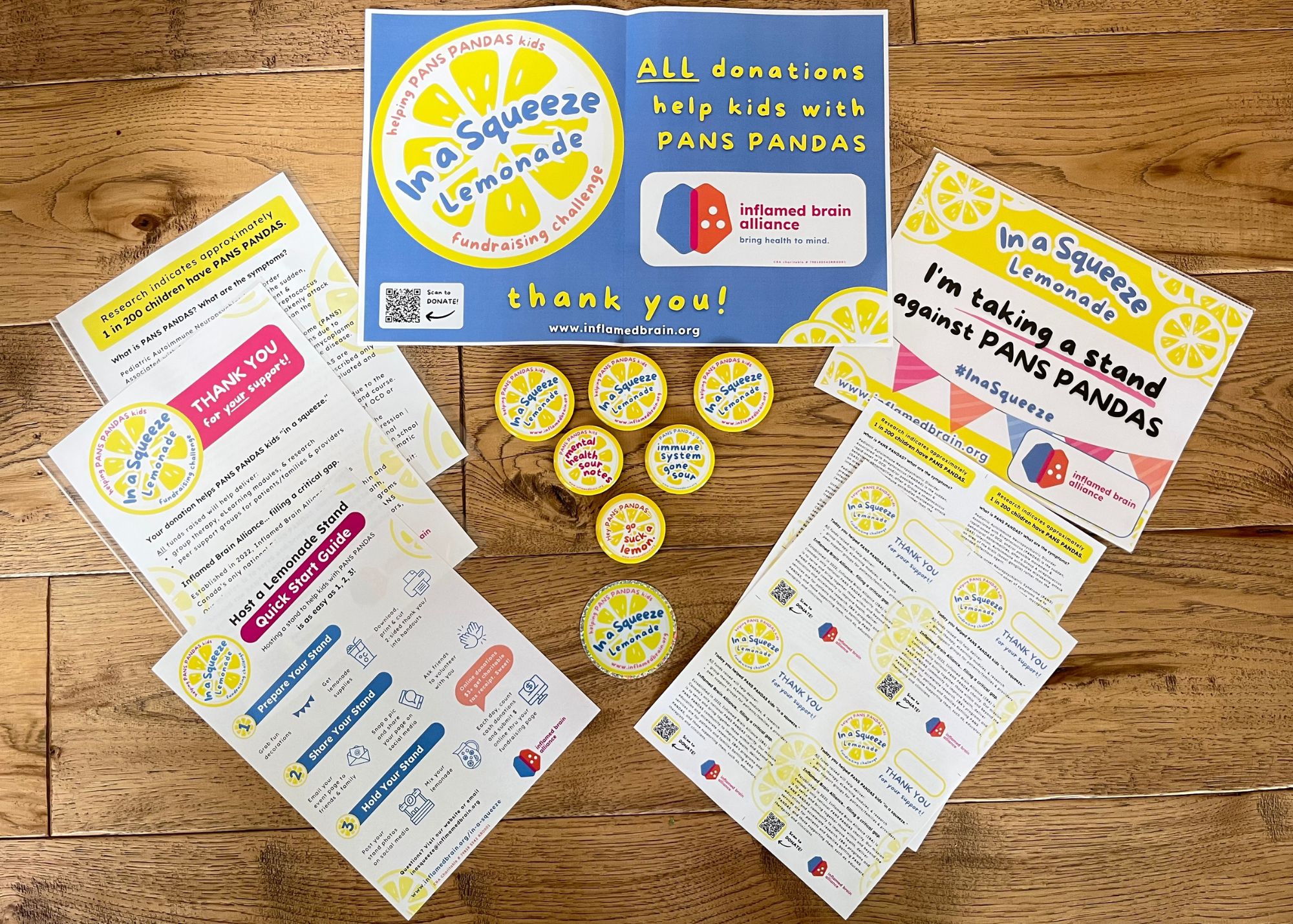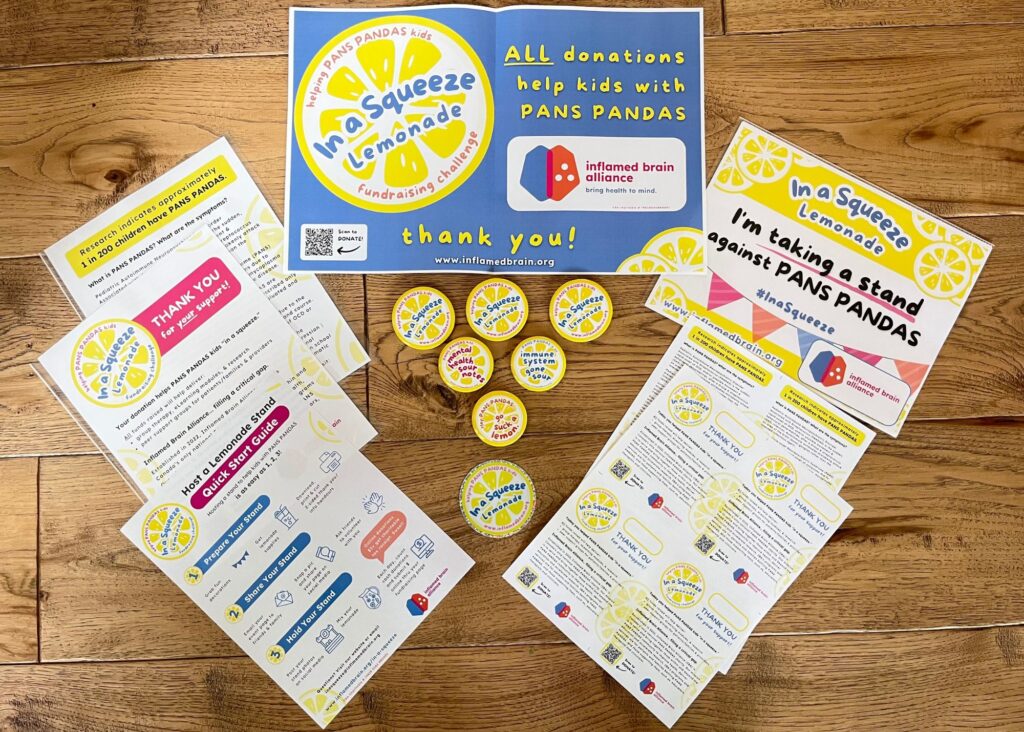 Hosting an "In a Squeeze" lemonade stand with Inflamed Brain Alliance (IBA) is super easy & fun – anyone can do it! So, "What supplies will I need?" With a few basic supplies (most you probably already have), you can be "taking a stand" against PANS PANDAS lickety-split. You can add all kinds of finishing touches & accents to your stand to personalize it and make it more fun (and successful!).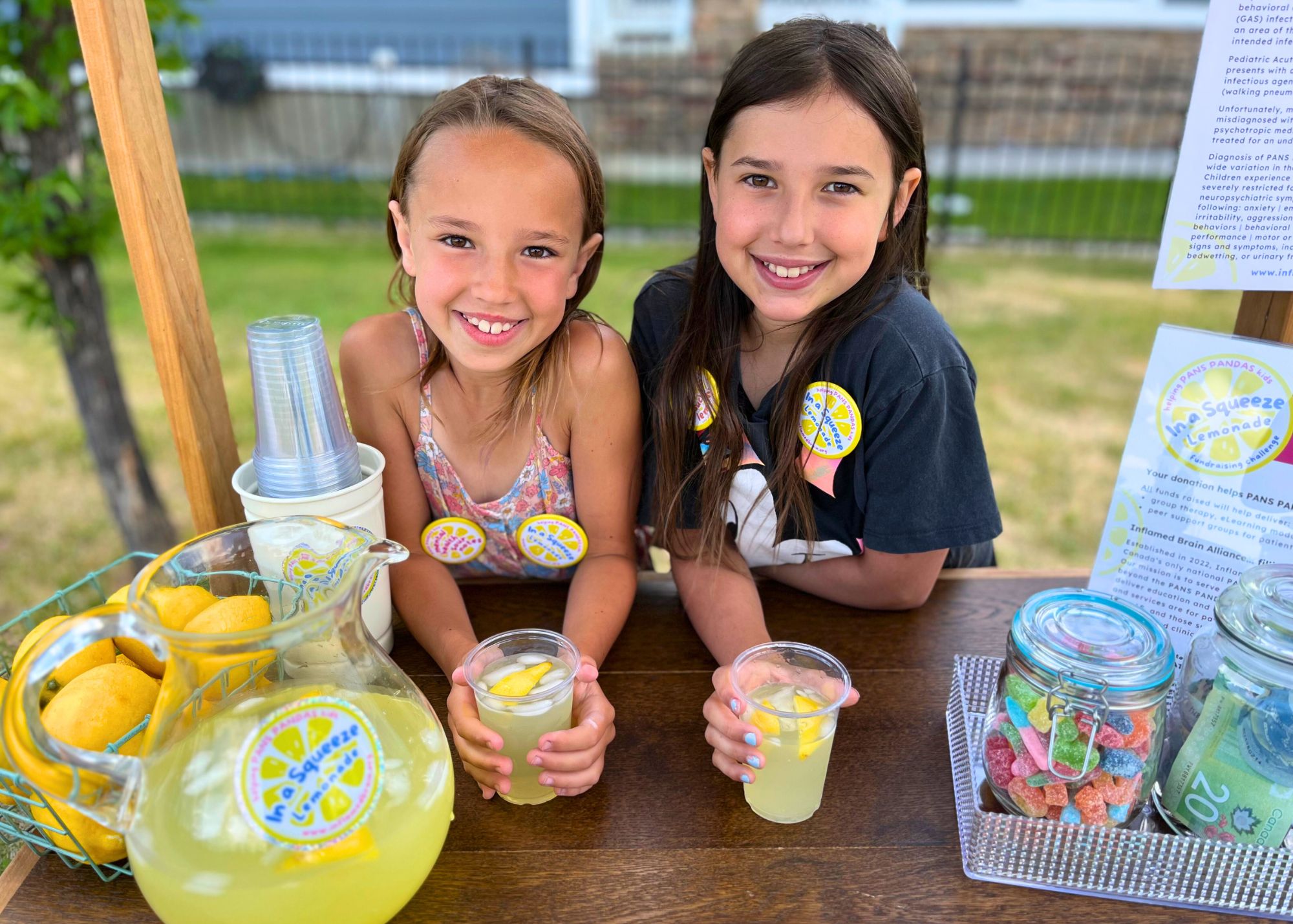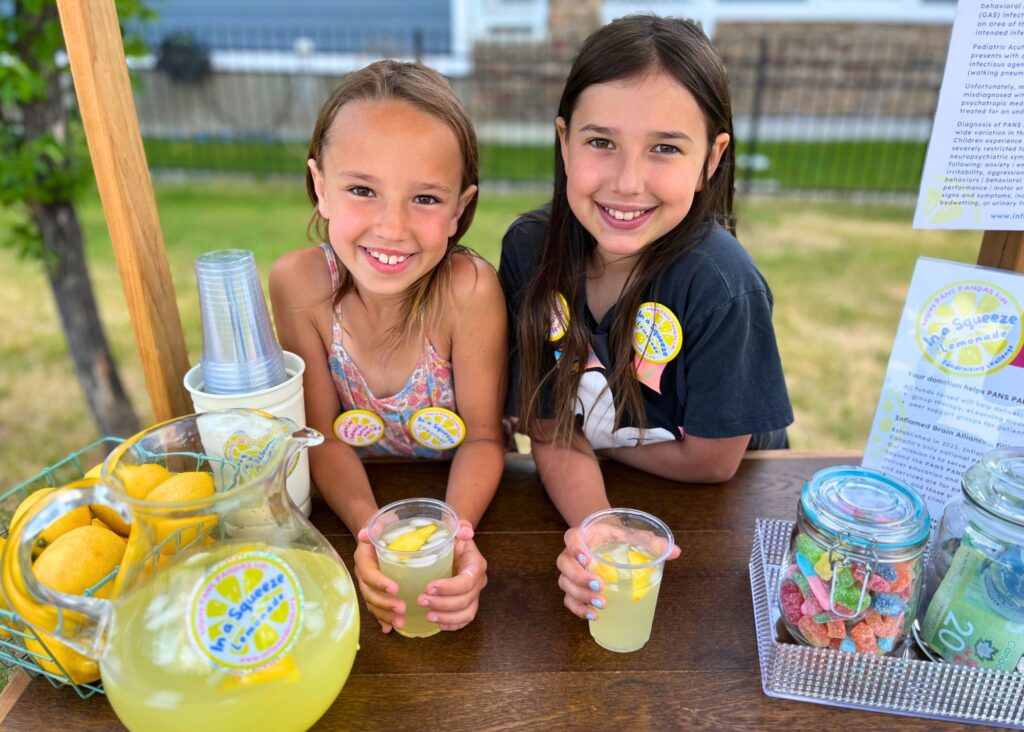 Here's our list of the supplies you need to get your lemonade stand up and running:
1. Cups
Cups are important! You'll be giving them out to your customers, so it is best to use disposable plastic cups. We think the 10 or 12 oz cups are a great size. [try Dollarama]
2. Lemonade (and a pitcher or container to hold it)
You can use the classic pitcher (plastic is best for safety), but if you're expecting a crowd (or have a full day lemonade stand planned) a spouted cooler would also work well. You can use your favourite brand of lemonade, or if you're feeling really inspired, make your own lemonade from scratch with lemons and sugar. Oh yah, some ice is always nice! [try Walmart or Superstore]
3. Table/stand
A portable table, such as a folding card table, will do the job, and will keep it simple. But if you and your parents are handy and have the 'extra' time, you could build a wooden lemonade stand. Of course, if you can find a shaded spot, that'll help you stay chill.
4. Signs & Decorations
When you register your "In a Squeeze" lemonade stand, you'll receive a stand kit in the mail with some branded signs to spruce things up! Feeling creative? Make your added signs with poster boards, markers and stickers. Hang signs and decorations at your stand, post flyers around your community and maybe even make some lawn signs to direct people to your stand. Don't forget tape for hanging your signs!
5. Donation container
You'll need a clear container for $ donations. We find it works best NOT to put a price on each cup of lemonade, but instead to ask for donations instead. People will often give more than what you would charge per cup. With your warm smile and hard work, you'll collect lots of donations to send to Inflamed Brain Alliance that'll make a difference for kids with PANS PANDAS.
That's all there is to it!
Help spread the message about this campaign by wearing your "In a Squeeze" buttons while holding the social media sign, snap a stand pic and share it on your social media using the hashtag #InaSqueeze. Encourage donors to do the same!
Be sure to tag us!
Twitter: @inflamedbrain_
Facebook: @inflamedbrainalliance
Instagram: @inflamedbrainalliance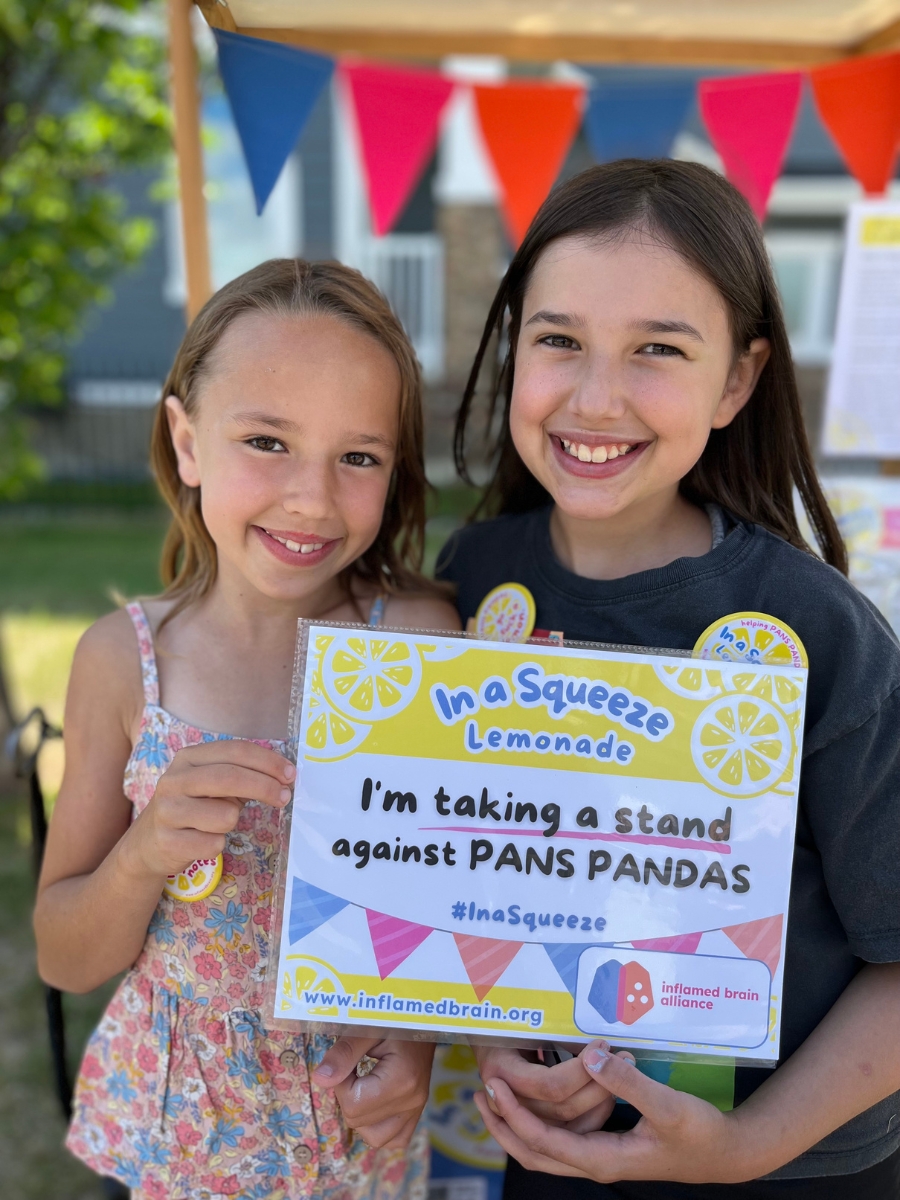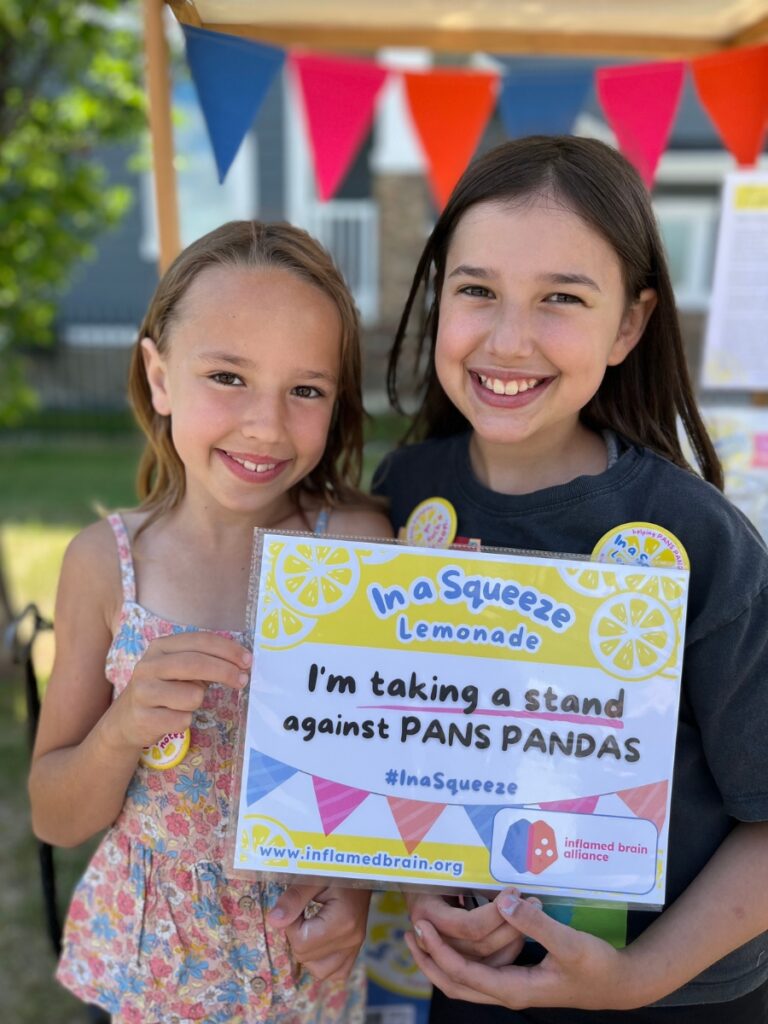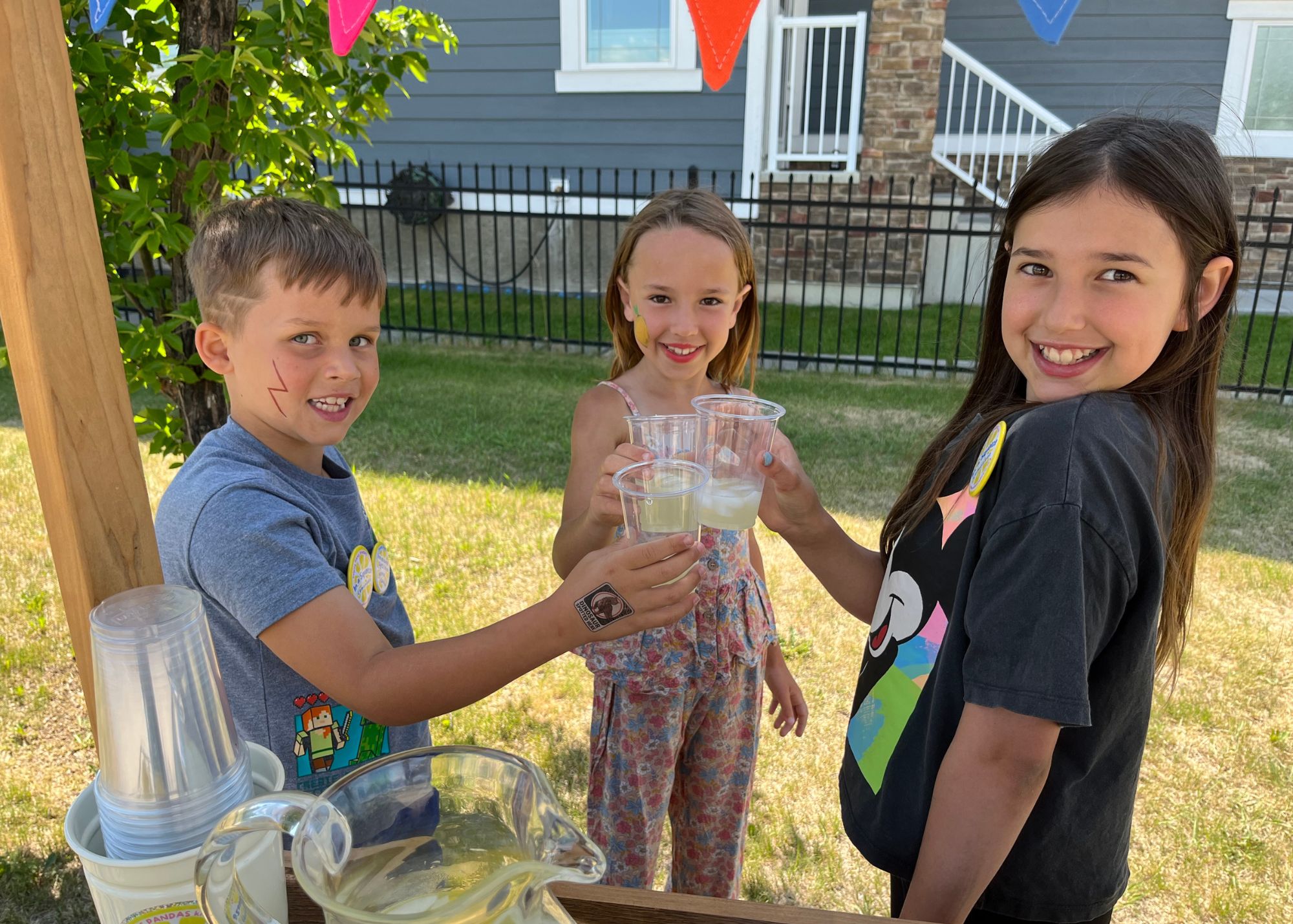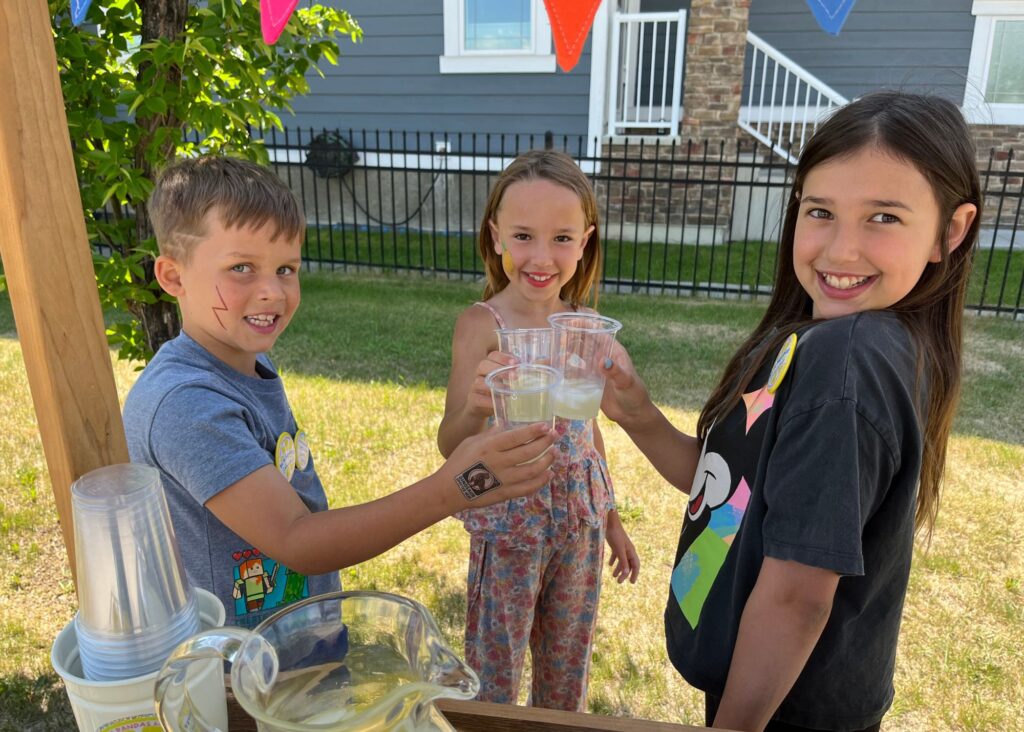 Location: We recommend choosing a place with a lot of traffic – front yard, park, or any location that works for you, and sharing your day(s)/time(s)/location details on your event page.
Invite your friends: Ask your friends to volunteer with you!
Fundraising goal: No matter what your goal, every amount counts to help PANS PANDAS kids! Just give it your very best.
Share your stand: Share your event page and use the share buttons to link on social media or in emails. It's a great way to invite people to participate or even receive donations from people who may not be able to participate but still want to contribute.
Sell more than lemonade: Baked goods, snacks, handmade crafts.
Get people excited! Post updates on social media as you get ready for your day and share why the cause is important to you.
Donations: We suggest that instead of putting a set donation amount, simply ask for contributions of any amount.
Payment types: Let visitors know they can pay by cash, cheque (payable to Inflamed Brain Alliance) or credit card on the "In a Squeeze" challenge page. Any online donation over $3 will receive a charitable tax receipt through canadahelps.org. Sweet!
Read up: Be ready to answer questions about PANS PANDAS and how IBA helps kids with PANS PANDAS by looking at the info cards provided in your kit and our website.
Send Reminder: Shoot out an email or social media post right before your stand event.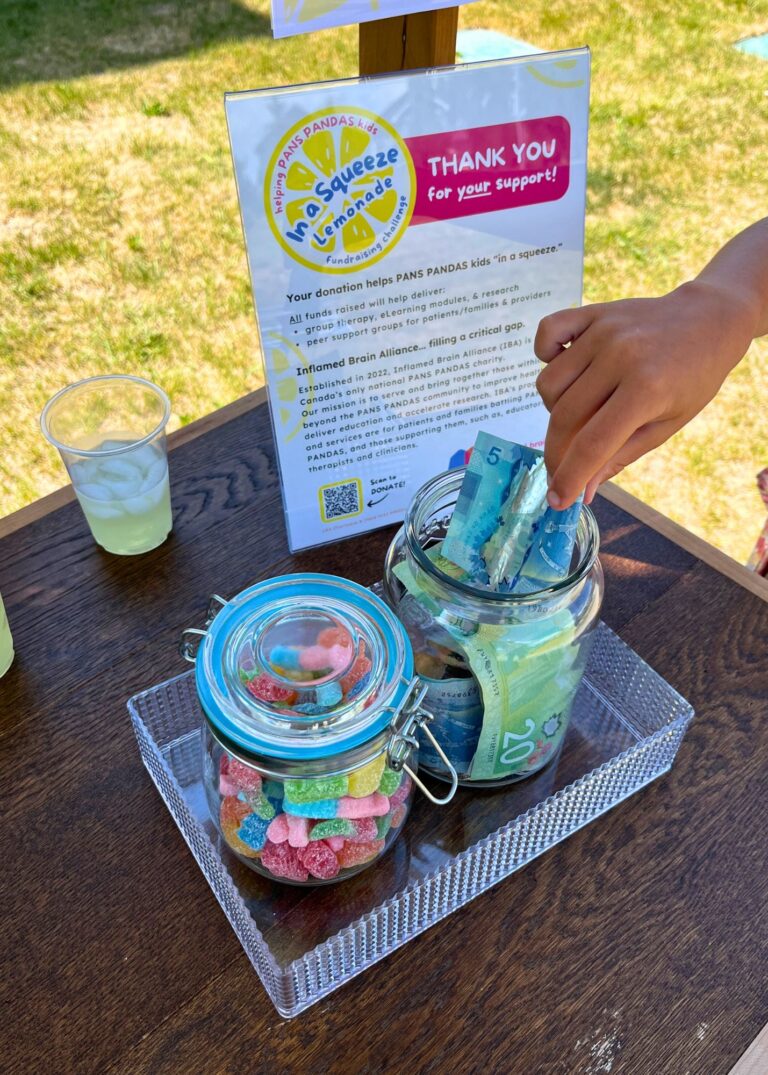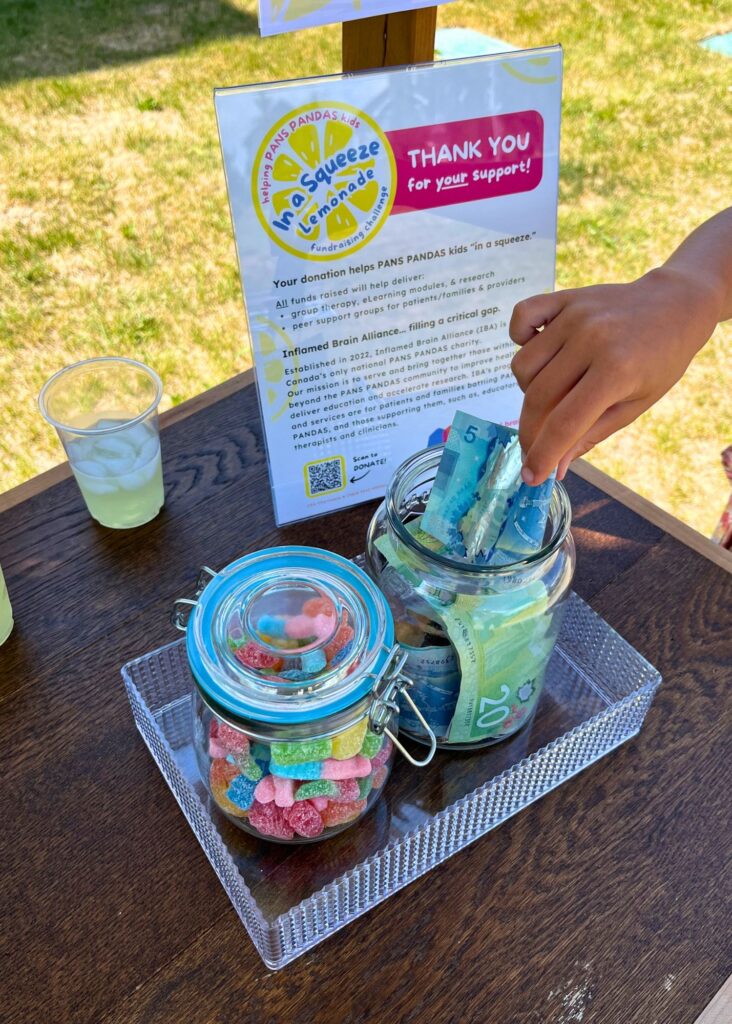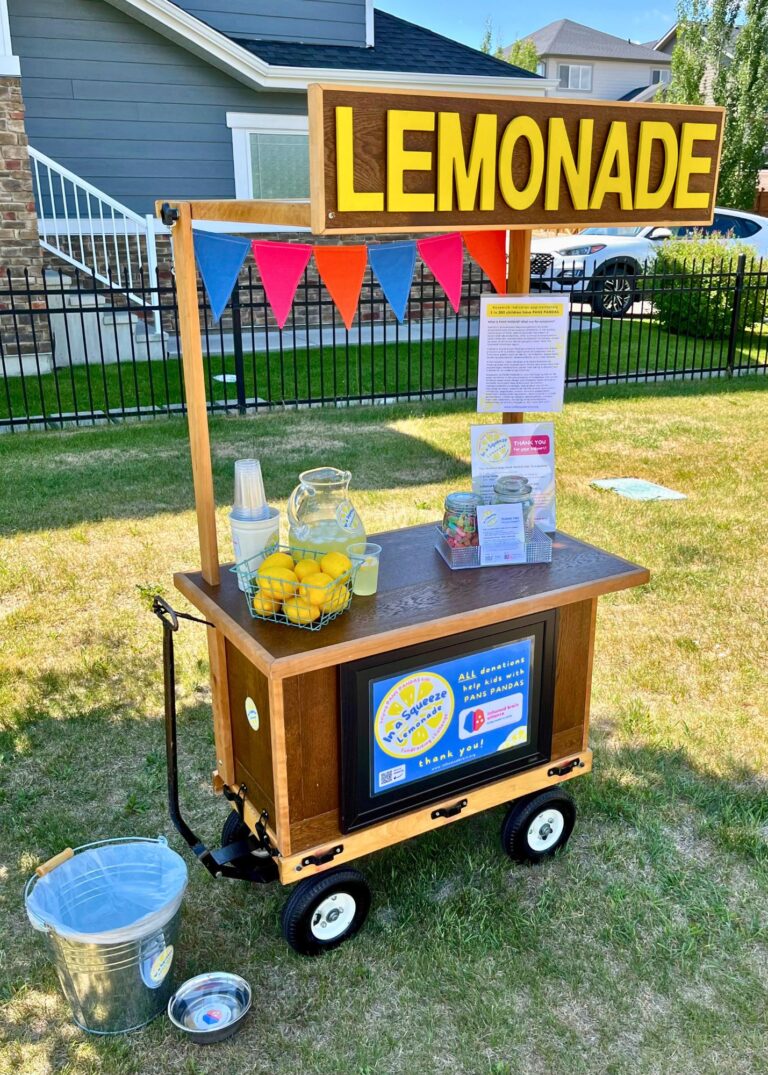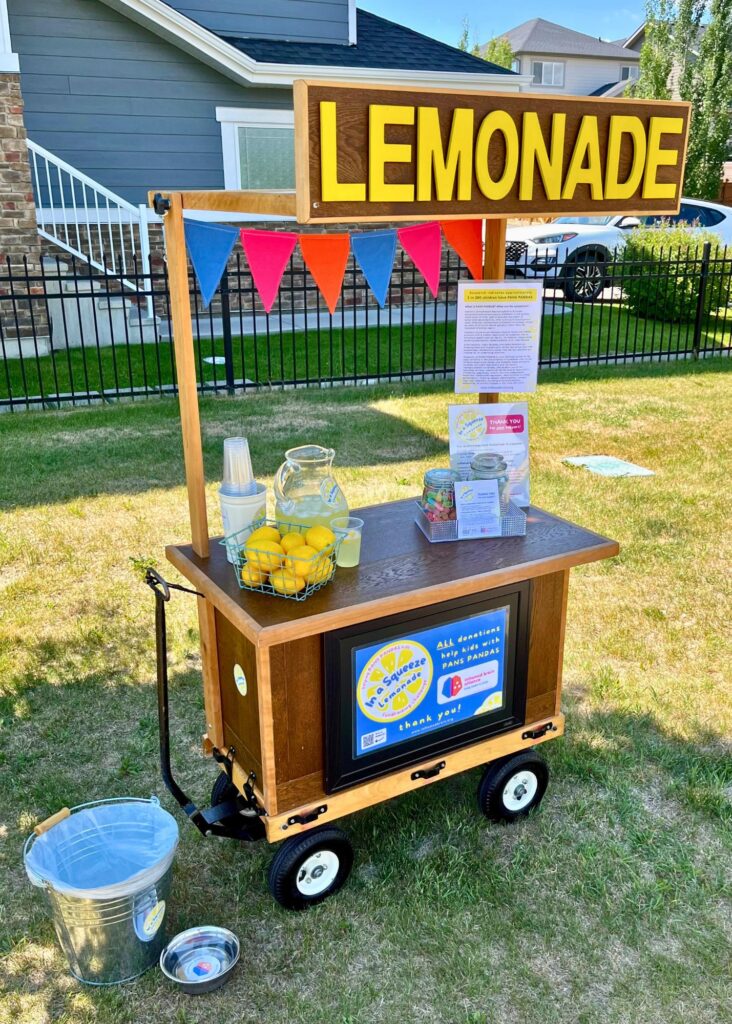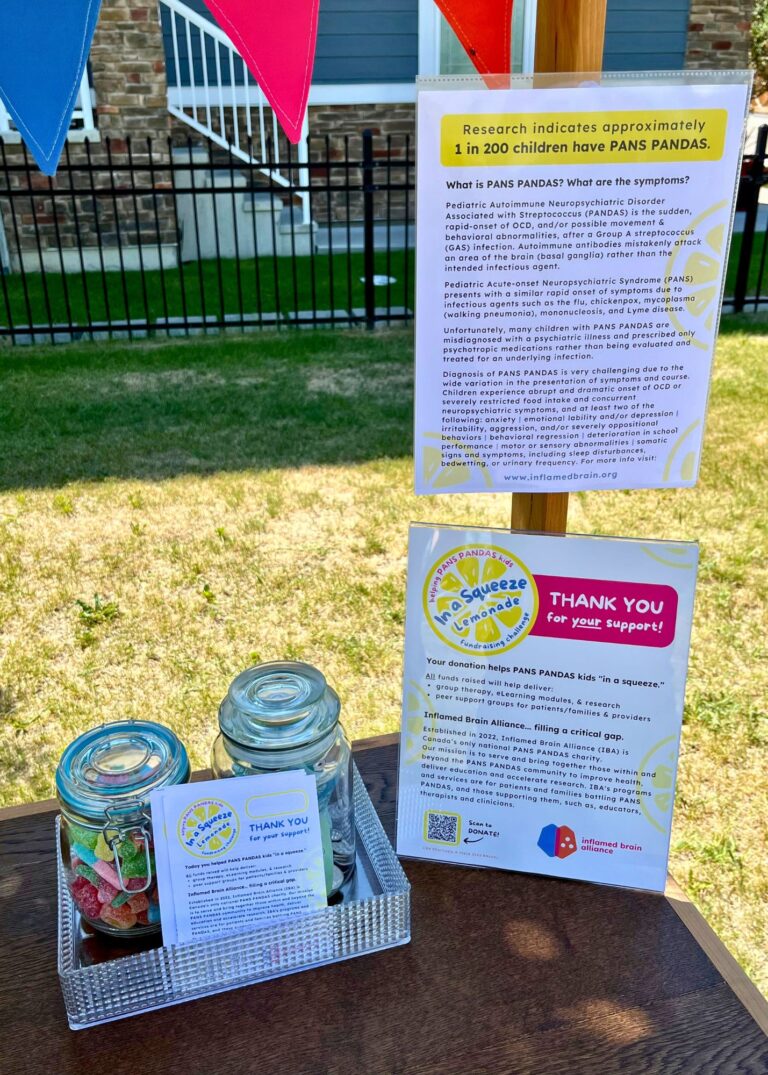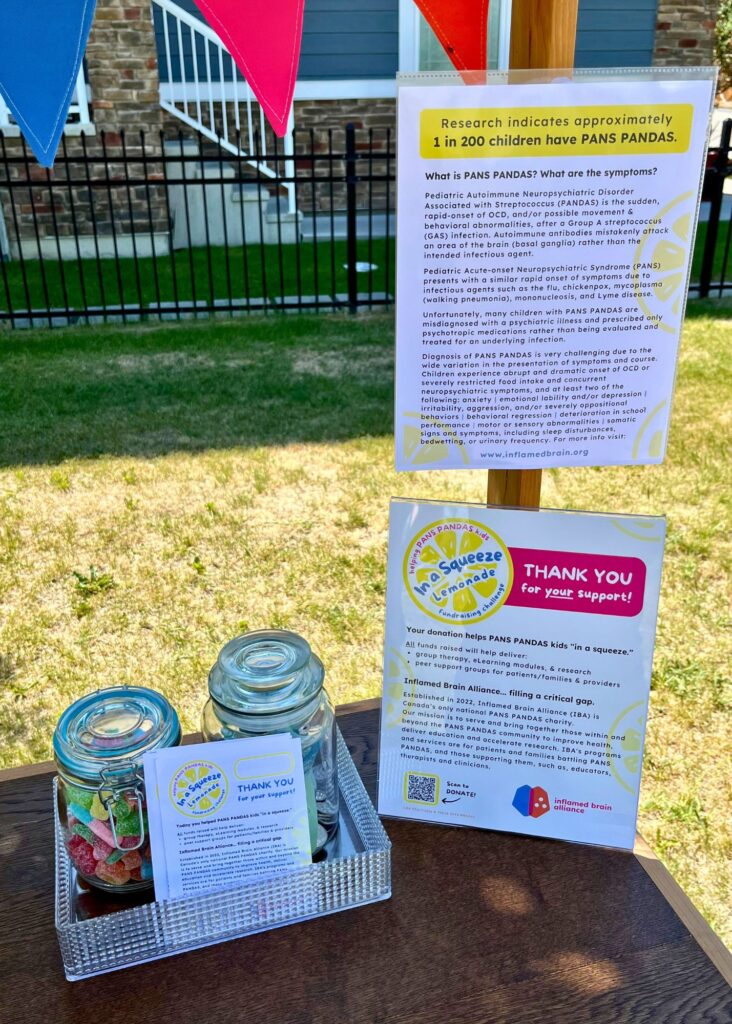 Thank your donors on social media and/or send them thank-you notes.
Cash: Each day, count all cash donations and transfer that $ amount online by credit card payment thru your fundraising page. You can then deposit the cash to your bank.
Cheques: Write cheques to "Inflamed Brain Alliance" and mail to the address below.
Mailing address:
Inflamed Brain Alliance
PO Box 71023 Silver Springs
Calgary, AB, T3B 5K2
If you live in Calgary, IBA has a special "In a Squeeze" Lemonade Stand we'd love to loan you for a week!
It's easy. Fill in the form below and select the week (Wed. to Wed.) you'd like to use the IBA stand. Once approved, we'll be in touch to confirm the date & time of the drop off, as well as the pick up. Everything is included: cups, lemonade mix, pitcher, 5 gallon drink dispenser, candies, donation cash box, and a lemonade stand kit with hand-outs. It doesn't get any easier (or more fun) than this!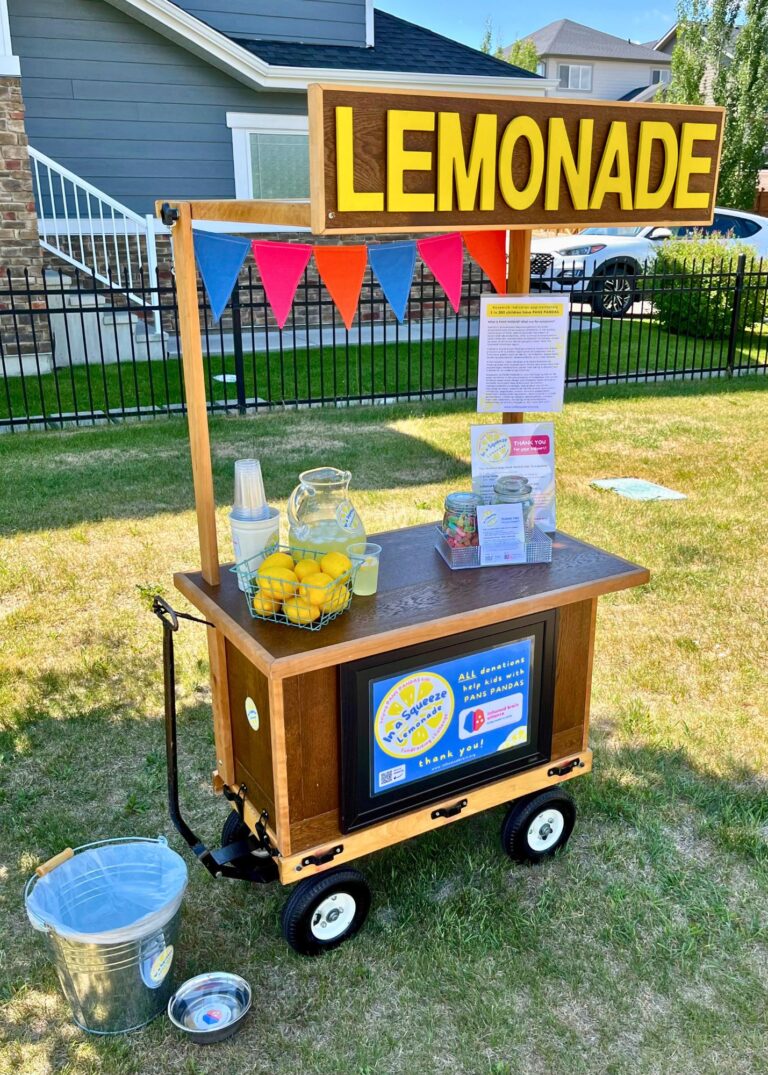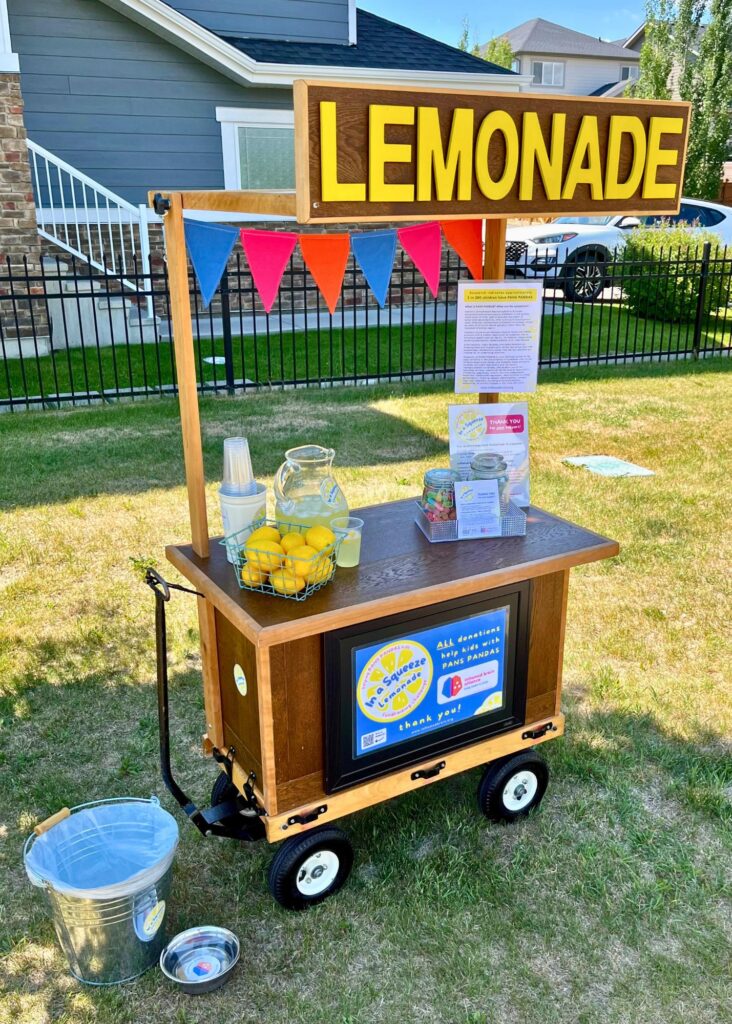 IBA's 'cadillac' lemonade stand ready to go for Calgary families!
Calgary's "In a Squeeze" Lemonade Stand Request
Please complete the form below with your preferred week (Wed. to Wed.) in the message box and we'll be in touch. Thanks!